Valentines Cupcakes
A Cupcake for Every Kid!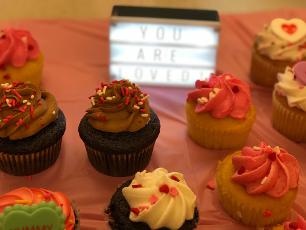 Every year the PTSA sponsors this fun event where we give a free cupcake at lunch to all students on Valentines Day! There will be multiple options for different flavors of cupcakes, including options for special dietary needs! In the beginning years of this fun traditional, parents would bake and then donate cupcakes. More recently, funds are raised for this event so that cupcakes can be individually wrapped and meet food & safety handling protocols.
Fundraising goals for the 2021-22 school year have been reached! Thank you to everyone who generously contributed. Additionally, a special thank you to Safeway for discounting the cupcakes and Whole Foods for donating the special dietary needs cupcakes.