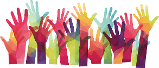 • Volunteer•
School Staff and IHS PTSA invite you to join us as a school volunteer. You are not required to be a member of PTSA to volunteer! We offer many opportunities for parents to be involved at the high school level for an hour, a day or on a regular basis. Your time makes a difference at our high school!
There are many ways that you can help, such as:
Become a Board or Committee Member - There are many positions in the PTSA where we can use your help. Some don't require much time at all, others do, but they're all important in strengthening the PTSA. Many of these roles can be done remotely, or with no in-person contact. See a list of IHS PTSA roles. CURRENT OPEN POSITIONS AS OF 9.21.22 - Membership Lead, Membership Data Entry, Volunteer Coordinator, Kenmore Middle School Liaison, POGS Liaison, PTSA Awards, Hospitality, Nomination Committee x3, Pass the Hat, Reflections Lead.


Volunteer at Events & Activities - From time to time we, or the school need volunteers. Examples of some of these events are: Picture Day, Valentine Cupcakes, and Launch Day. Watch school & PTSA emails for these opportunities.
Fill out your Forms Early! - All volunteers who are on campus must fill out a Volunteer Profile and a Background Check (level 1) as well as submit their Proof of Vaccination. Forms can be found online at: nsd.org/resources/volunteer under the School & District Volunteers section.